Sure you want to avoid the rush at the parking lot, get in line first at the concession stands, take your jacket off, get settled in but this is the reason I always make sure to get to my seats early...You don't see much in the first 20 seconds but trust me, you'll want to hang around til about the 22 second mark...this is Semyon Varlamov of the Washington Caps settling in for another day at the office....
Don't always count on seeing that during warm ups (although it is always a nice way to start the game off if you do) but who doesn't love the variety of the "goalie warm up". No two masked men do the same thing but rumor has it, their routine, uniquely their own, is the same day in and day out. A ritual if you will and we're all invited to watch! A close second to bearing witness to any man that can do the splits is watching them chalk the crease. For those who don't know, exhibit A...chalking the crease...brought to you by Caps Prospect and Hersey Bears netminder Braden Holtby
And when the goalie warm up ends with Brian Elliott my future husband doing this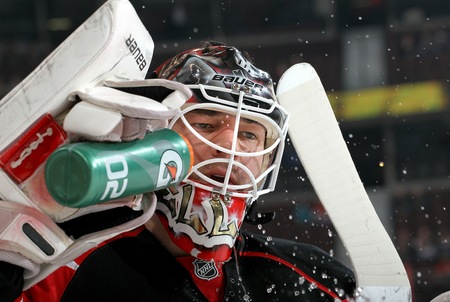 You too may be finding you need a bit of H20 to cool yourself off rehydrate. And just in case you were going to get up to use the ladies room, grab a drink, or stretch yourself you may want to stick around for the start of the 2nd and 3rd periods or you may miss Neuvirth doing this
Or Bryan Pitton doing this
What have we learned today? Sure there is a ton of action during three periods of hockey, but if it's the goalies that hold a special place in your inappropriate "I hope nobody can see what I am currently thinking" daydreams heart, the real action happens before the game /period even begins!